Frank London is MI High's spy handler and caretaker at St Hopes.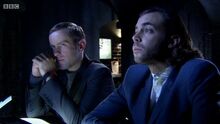 Biography
Edit
He is an uncannily intelligent man who leads the M.I. High team. He poses as the school caretaker which is why most of the students and staff don't take him seriously and find it hard to believe he went to university. His storeroom is the secret entrance to the M.I.9 base, deep beneath the school. He has his own personal spy gadgets including a signalling device concealed within the handle of his broom, which he uses when in caretaker disguise to contact agents under his care.
He has formed a close friendship with his team, the most meaningful ones being with Oscar Cole, who looks up to Frank as a father figure.
Also, he has a fierce sense of right and wrong. In spite of his extreme hatred of SKUL and what they have taken from him, he still tenaciously believes that it is unfair for them to influence the General Election when The Grand Master attempts to become Prime Minister, on account of the fact that it is against M.I.9 regulations and violates the spirit of free elections.