The B Team is the second episode of Series 5.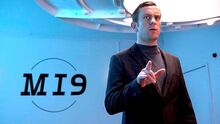 Previous Episode: Vote SKUL
Next Episode: Ghosts
Synopsis
Edit
When Stark enlists the help of The Grand Mistress as an M.I.9 business advisor, she seizes the opportunity to escape and leaves all Stark's agents stranded in the Himalayas. As the only agents available, Rose, Carrie and Oscar are sent to find her but are captured in the process.
Frank is determined to rescue them. However, his only option is to use Smart Ease, invented to dramatically speed up agent training. Frank turns Avril, Scoop and Davina into M.I.9 agents.
The title parodies The A Team.